Event Description
Participants must be fully vaccinated and show guards vaccine cards upon entry. For everyone's protection, masks! Excited to be in person!
Typographics "in-person" attendees can receive a 10% discount on this workshop. Look for the discount code on the ticket confirmation from Eventbrite.
Use your senses to develop a visual system for your own highly personal line of ice cream. Create a menu of visual elements and apply them to a unique product family. Use typography, color, and graphic elements to express sensory delight and explore personal culinary themes (heritage, nostalgia, health, futurism, feminism—you name it). Use this one-day workshop to spark your creativity, find new inspiration, and create a chill portfolio piece. Participants receive copies of Ellen Lupton's latest book from Cooper Hewitt, Smithsonian Design Museum, Design Is Storytelling.
This class is created for designers and students with a grasp of the basics and a desire to flex (or loosen up) their typographic muscles. We will be working in Adobe InDesign and/or Illustrator; a laptop and a recent version of one or both applications is required. Access to Adobe Fonts is strongly suggested.
Ellen Lupton is a writer, curator, educator, and designer. She is Senior Curator of Contemporary Design at Cooper Hewitt, Smithsonian Design Museum in New York City. Recent exhibitions include Beauty—Cooper Hewitt Design Triennial (with Andreas Lipps), How Posters Work, Beautiful Users and The Senses:Design Beyond Vision. Lupton also serves as director of the Graphic Design MFA Program at MICA (Maryland Institute College of Art) in Baltimore, where she has authored numerous books on design processes, including Thinking with Type, Graphic Design Thinking, Graphic Design: The New Basics, and Type on Screen. Her book, Design Is Storytelling, was published by Cooper Hewitt in 2017. Lupton earned her BFA from The Cooper Union in 1985.
Organizers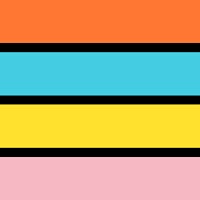 About the Organizers
A design festival for people who use type.
Visited 242 times, 1 Visit today