Event Description
Meet student teams from around the world who are imagining a more sustainable and equitable future at the BDC Summit.
BDC Summit 2022 is June 20-24!
June 20-24, over 250 students from 18 countries will share their projects that bridge art, design, and biotech. Over the course of a week, teams from 54 high schools and colleges will present before a global audience and the 50+ expert judges. Eight teams will be selected to advance to the Finals on June 24, where judges will select the Overall Winner to take home the coveted Glass Microbe.
Student teams explore new ways biotech might impact agriculture, medicine, materials, fashion, energy, architecture, and more—all while considering sustainability, ethics, and equity. Join us for BDC Summit 2022 to hear student, speaker, and expert perspectives around how biotech is impacting every aspect of our lives.
Also, check out this year's Gallery Show on June 22 where you'll have the chance to mingle with speakers, judges, and students.
Countries represented include: Australia, Argentina, Canada, Chile, China, Colombia, Denmark, Finland, Guatemala, India, Japan, Mexico, Netherlands, Singapore, Switzerland, Turkey, United Kingdom, and United States.
BDC Summit 2022 Agenda
Student Presentations
June 20, 9:15am – 3:00pm ET
June 21, 12:15pm – 6:00pm ET
June 22, 8:00am – 1:15pm ET
2022 Gallery Show
June 22, 2:15pm – 6:00pm ET
Finalist Presentations, Speakers, and Awards Ceremony
June 24, 11:00am – 2:45pm ET
BDC's Impact
Since its launch in 2015, BDC has been shaping a generation of creators who prioritize both humanity and planetary health. BDC alumni have gone on to turn their projects into multimillion dollar startups and exhibit in international galleries and design festivals.
Student projects have exhibited in eminent spaces including:
Ars Electronica
London Design Festival
Dutch Design Week
NYCxDesign
MIT Media Lab
The Tech Museum of Innovation
The Museum at FIT
The Gregg Museum
World Economic Forum
To date, the business community has invested $20+ million in BDC projects-turned-startups. Companies include:
Help highlight these incredible students and their work
Send an email to info@biodesignchallenge.org and we'll send along our promo kit.
Organizers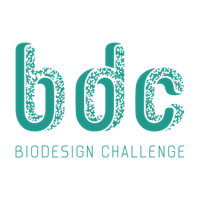 About the Organizers
Biodesign Challenge is a nonprofit education program and competition in which university and high school students collaborate with instructors in art, design, and biology to envision bold and futuristic projects that address pressing issues in sustainability. Each June, students showcase their projects at the BDC Summit, held at the Museum of Modern Art (MoMA) and Parsons School of Design. Projects explore topics including the future of food, energy, materials, medicine, and more. Learn more on our website.Visit Our Social ChannelsTwitter | Instagram | Facebook | LinkedInRead our Online MagazineBiodesignedHelp Us Grow the FutureSupport us by making a donation or becoming a sponsor.  
Visited 6 times, 1 Visit today