Event Description
Participants will gain technical skills to apply to illustrator and learn how to design a custom name graphic!
*This event is open to NYU Students, Staff, and Faculty only.
Whether you're laser cutting, designing graphics, or photo editing, Adobe Illustrator can make achieving complex tasks easier and faster. Join MakerSpace TAs JP & Nidhi to learn the technical concepts within the software and sharpen your Illustrator skills for graphics and prototyping. You can expect to learn more tips and tricks and utilize your knowledge to design a custom name graphic that can be used in the vinyl cutter.
Before you attend the workshop, you must have Adobe Illustrator installed. To download a free trial, please follow the instructions here: https://www.adobe.com/products/illustrator/free-trial-download.html
*This workshop is open to all current NYU student, staff, and faculty and will take place in-person at the NYU MakerSpace located in the Tandon School of Engineering on the downtown Brooklyn campus.*
Organizers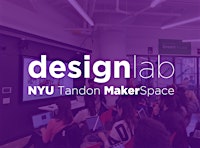 Design Lab @ NYU MakerSpace
About the Organizers
The NYU MakerSpace is a cutting edge lab aiming to foster projects at the intersection of technology, creativity and innovation. It features rapid prototyping and PCB production equipment, as well as advanced machining and testing capabilities. The MakerSpace hosts the Design Lab which provides NYU students with opportunities to ideate, experiment, prototype, and build their ideas.
Visited 51 times, 1 Visit today