Event Description
Participants will learn more about Fusion 360 and advanced mechanical design principles.
*This event is open to NYU Students, Staff, and Faculty only.
In this in-person workshop, participants will join TAs Nicole and Joel to learn about the advanced capabilities of Fusion 360 including its simplistic assembly features as well as integrated simulation features. Students will learn how to quickly design realistic systems and test them for functionality before beginning the prototyping process.
If you would like to follow along, you must have Fusion 360 software installed. You can download the software for FREE here: https://www.autodesk.com/products/fusion-360/students-teachers-educators
*This workshop is open to all current NYU student, staff, and faculty and will take place in-person at the NYU MakerSpace located in the Tandon School of Engineering on the downtown Brooklyn campus.*
Organizers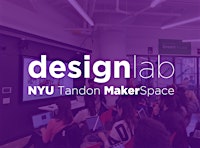 Design Lab @ NYU MakerSpace
About the Organizers
The NYU MakerSpace is a cutting edge lab aiming to foster projects at the intersection of technology, creativity and innovation. It features rapid prototyping and PCB production equipment, as well as advanced machining and testing capabilities. The MakerSpace hosts the Design Lab which provides NYU students with opportunities to ideate, experiment, prototype, and build their ideas.
Visited 77 times, 1 Visit today