Event Description
500 Startup x Corporate x Investors – Fin Tech – Insurance Tech – Real Estate Tech – Investment Tech – Banking Tech Innovation
Summary: Annual Innovation Conference, hosted at premiere venues on or minutes from Columbia University, to enables Global Fortune 500 and Growth Startup to demo their emerging tech innovation, and explore potential partnership, funding or acquisition.
Industry: Focus on emerging tech in Computing, CyberSecurity and Mobile Payment (i.e., Artificial Intelligence, Quantum Computing, Blockchain), across FinTech industries (i.e., Finance, Insurance, Investment and Lending).
Audience: We expect over 2,000 decision makers, comprised of 500 Startup Pitch Demo, Fortune 500 Companies across industries and over 500 investors from top VC, CVC, FO and PE.
Speakers: Fortune 500 executives, Growth Stage Startup founders, VC partners and prominent Faculty members from top institution, including Columbia, NYU, Cornell, Harvard, MIT, and Stanford.
Agenda: The Event is organized into multi-tracks, including thought leadership*, fireside chat, discussion, corporate demo, startup demo, networking session and VIP reception for CEO from featured startups, Venture Capital and Corporate partners. To view detailed agenda, use link below.
Format:
Conference: Guests: Online Live Stream, Speakers: Live Stream Broadcast with featured speakers from MIT, Harvard and Stanford Campus.
Startup Pitch: Live Stream open to featured* startup with purchased demo pass "limited spot for the top 10% based on our Judge recommendation".
Startup Demo: Virtual (90 seconds max prerecorded Video (Digital & Hardware)
Networking: Virtual Open to all guests, Offline: small VIP Reception for select Featured Startup Offline (By Invitation only on or near Columbia Campus) "Contingent on NYC local rules for Covid-19" and Columbia University guidelines. Must pass all screening requirements.
Prizes: Best Startups Pitch and Demo will receive sponsors recognition, exclusive press coverage and guarantee Funding from our new Global Innovation Funds and our members VC.
Registration: exclusive for professional guests and our ecosystem members. Purchase your pass on eventbrite first, for detailed agenda, guests lists, speakers line up, live stream access or to become a member sign up here: OneTraction.vc
Featured past and current Speakers. Featured past summit video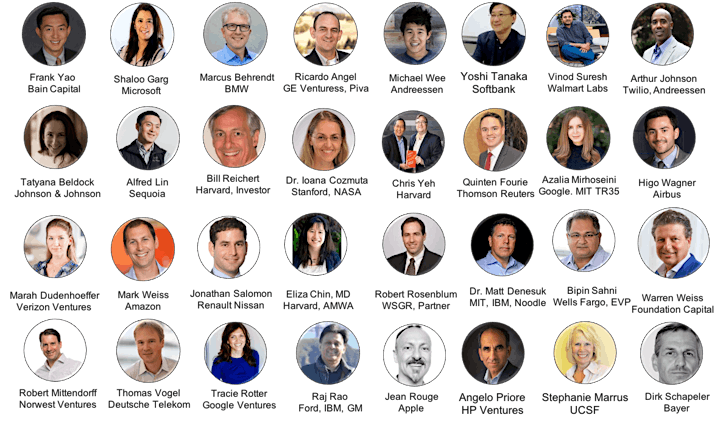 About the Organizers
On-Demand Innovation Ventures
Visited 171 times, 1 Visit today