Event Description
This lecture honors William H. Mueser (1900-1985) and Philip C. Rutledge (1906-1990), former partners of Mueser Rutledge Consulting Engineer
The Wharf is a world-class mixed use development located on Washington, DC's Southwest Waterfront. Construction of Phase 2 began in 2019 and geotechnical construction was completed by December 2020. The Wharf's Phase 2 development includes approximately 1.2 million ft2 of above-grade construction including five multi-story, mixed-use buildings constructed over up to three levels of underground parking. The below grade space is bisected by a 108-in. diameter DC Water outfall pipe. The foundation walls are located about 10 feet from the Washington Metropolitan Area Transit Authority subway tunnels, which consist of a relatively flexible steel plate system. Further, plans called for removing soil from above the tunnels to within as little as 10 feet of the tunnel crown.
The support of excavation for this complex project required several different methodologies, including sheet piles, soldier piles, displacement piles, tiebacks, deep foundation anchors, jet grouting, and internal bracing with multi-tier rakers. This lecture describes how multiple geotechnical design and construction techniques were applied in unique combinations to enable construction of this high-profile project while protecting the adjacent critical infrastructure.
The Speakers:
Aaron Sacks is a geotechnical engineer and Associate at Mueser Rutledge Consulting Engineers (MRCE). Aaron joined MRCE in 2006 after earning his Masters in Civil Engineering from the University of Illinois at Urbana-Champaign. Aaron is a registered professional engineer in Washington, DC and New York and has worked in both MRCE's New York City office and now manages their DC office.
He has worked on hundreds of projects involving site characterization, soil mechanics, foundation design and construction, earth support structures, slope stability, instrumentation, dewatering, and hydraulic barriers. From 2013 to 2016, he managed MRCE's in-house Soils Laboratory. In 2018, he was named an Associate and shortly thereafter became the manager of MRCE's DC office, which covers the DC, Maryland and Virginia region.
Joe Cavey is Vice President with Keller North America, Inc. and manages the Special Projects group of the Southeast Business Unit. Joe has a Bachelors Degree in Civil Engineering from Bucknell University and a Masters Degree in Civil Engineering from Northwestern University. Joe is a registered professional engineer in Maryland, Virginia, Washington, DC, and Pennsylvania.
Joe started with Keller/Hayward Baker over 28 years ago in Washington, DC, working as a field engineer on the chemical grouting for the Washington Metro Green Line New Hampshire Avenue Tunnels. Since then, Joe has managed projects in all types of specialty geotechnical construction throughout eastern U.S. As a Vice President at Keller, Joe has had executive responsibility over several very large projects in Washington, DC, — including DC Clean Rivers Tunnel Grouting, Blue Plains WWTP, Woodrow Wilson Bridge Micropiles, The Wharf, and currently Alexandria River Renew. Joe has authored over 10 papers on various subjects in geotechnical design and construction.
Registration
ASCE MET members please use promo code "ASCE" to waive registration fee. $15 fee for non-members.
Organizers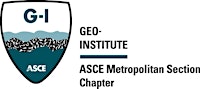 ASCE Met Section Geo-Institute Chapter
About the Organizers
The mission of the ASCE Metropolitan Section Chapter of the Geo-Institute is to provide members with opportunities to expand and share their knowledge and expertise of geotechnical engineering and geotechnical construction, particularly as it relates to the unique environment of the New York City metropolitan area. The Geotechnical Group aims to accomplish this through monthly technical lectures and annual specialty seminars. Attendees of the geotechnical lectures and seminar will receive accredited Professional Development Hours (PDHs) applied towards the Continuing Education Program of the P.E. licensing renewal. To learn about our upcoming technical lectures and seminars, please look at the event calendar on the right side of this page. If you would like to present one of your projects at one of our monthly lectures, or if you have any particular geotech-related topic that may be of Section members' interest, please do not hesitate to contact any of the group officers.
Visited 6 times, 1 Visit today