Event Description
Join us, as we Celebrate our 20 Years Anniversary of Advocating, Connecting & opening Doors for Women and Minority Entrepreneurs!
The New York Women's Chamber of Commerce (NYWCC) is excited to invite you to our 20th Anniversary Celebration, November 3rd at 8:30am. This fundraising breakfast is where we reaffirm our commitment to Advocating, Connecting and Opening Doors for Women and Minority business owners. This year, we will celebrate women's leadership, impact, and power across different sectors and the impactful role of companies advocating for Diversity, Equity, and Inclusion (DEI) to guarantee the inclusion of women, especially women of color and other minorities in economic opportunities.
Congratulations to our 2022 Women of Excellence Honorees & Corporate Partners
Mayra Linares-Garcia, VP, Public Affairs and Communications (PAC) at Liberty Coca-Cola Beverages
Karen McGuinness, Vice Senior Business Manager, Non-Profit & Education Banking, JP Morgan Chase and Co.
Rud Morales, President of Fortis Construction LLC.
Valerie White, Senior Executive Director at LISC NYC
Patricia Pacheco Da Baez, Managing Director, NYC Private Bank Market Leader & Diverse Segment Champion at Bank of America
Kecia Palmer-Cousins, CEO of Aero-Ba-Soul Inc. and GOO of G&K Sweet Foods, LLC.
Lilliam Perez, VP of Government & Community Relations at Montefiore Health System
Dr. Yomaris Peña, Vice Chief Medical Officer at SOMOS Community Care
Katherine Pichardo-Erskine, Senior VP at the MirRam Group & President of the Hamilton Campaign Network (HCN)
Bernanda Rodriguez (La Chilly), Owner of Josephine Spa Corp.
Carmen De La Rosa, NYC Councilmember of the 10th District & Member of the Women's Caucus
Inez E. Dickens, Assemblymember for the 70th district of the New York State Assembly
Small Business Champion Award – New York-Presbyterian Hospital
Small Business Champion Award – Ponce Bank
Small Business Champion Award – Verizon
M/WBE Champion Award – Port Authority of NY & NJ
Foundation of Excellence Award – Citi Foundation
Join us in our efforts to economically empower women and minority entrepreneurs of color by helping them create successful businesses and build generational wealth. To accomplish this, we need the support from corporations committed to DEI to help us reach our 2022 fundraising goal of one million dollars.
*Due to the venue contract, tickets are not refundable.
Organizers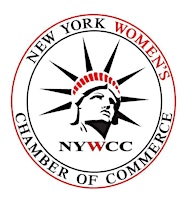 New York Women's Chamber of Commerce
About the Organizers
The New York Women's Chamber of Commerce (NYWCC) , established in 2002, is a not-for-profit organization dedicated to assisting women and other disadvantaged minorities achieve success and economic independence through small business, micro-enterprise ownership and self-employment. Furthermore, NYWCC advocates for and actively works to create equal and fair business opportunities fostering an environment that nurtures the growth of women and minority-owned businesses in the city and state of New York. NYWCC is the only chamber of commerce in the city of New York that provides direct business development services to small businesses and microenterprises through its Minority and Women Business Center and its Women's Microenterprise Institute. Both the MWBE Center and the Micro-enterprise Institute have been successfully operating since 2005.
Visited 7 times, 1 Visit today