Event Description
The theme of the 2022 TAAB Symposium is
"Entrepreneurial Journey of Biotech Startup + Career Opportunities in the Life Science Industry"
[Webex Event Links will be sent to participants at 9 am on 11/25/2022 (Friday). If you did not receive the links, please email us at taabustw@gmail.com]
Dear TAAB members and friends,
The 2022 TAAB Symposium Committee cordially invites you to join the 2-day 2022 Annual TAAB Symposium. This year, our symposium theme is "Entrepreneurial Journey of Biotech Startup + Career Opportunities in the Life Science Industry." The symposium will be held at Rutgers University, School of Pharmacy, on December 03 – 04.
Features of the 2022 TAAB Symposium:
1. Main Sessions:
(1) Keynote speech: "From Academic Spinoff to The First FDA-approved Gene Therapy: Spark Therapeutics," delivered by Katherine High, MD, a former Head of R&D at Spark Therapeutics and the current President of Therapeutics at AskBio. She will share her career journey of founding a company from an academic research institute.
(2) Featured speech: "From Charles River to Wall Street, how I start my entrepreneurial journey" delivered by Tzongshi Lu, Ph.D. He will share 1) why he wants to be a biopharma entrepreneur?; 2) how he prepared himself to be an entrepreneur?; 3) how he converted his academic research projects to industrial projects.; 4) Challenges he met; 5) Mistakes he made; 6) His vision, even though he is a new biopharma entrepreneur!
(3) Featured speech: "From Eureka Moment to Commercialized Life Science Products – When, Where and How to Raise Funds and Seek Partnership," delivered by Portia Ku, Partner at O'Melveny & Myers LLP. In addition, she will share her experience in helping biotech companies to achieve IPO successfully.
(4) "Challenges and Opportunities in Biotech Startup vs. Big Company" session: a panel discussion to discuss the pros and cons of working in a biotech startup and big company.
2. Career Development Sessions:
(1) In-person discussion groups with panelists from diverse backgrounds allow attendees to converse with professionals in different fields. The topics include career transition, communication skills, leadership self-evaluation, biotech startups, and finding the first industry job.
(2) "Mentorship Matters: Guidance at the crossroad" session: hearing from our previous mentors and mentees on how the TAAB mentorship program helped them to improve career and professional development.
(3) Mock interview (in person only, slots are limited, so register as soon as possible!)
Those who are interested in attending a mock interview, please send your resume before 11/27 11:59PM to taabustwmockinterview@gmail.com "and" bring your resume to the in-person interview.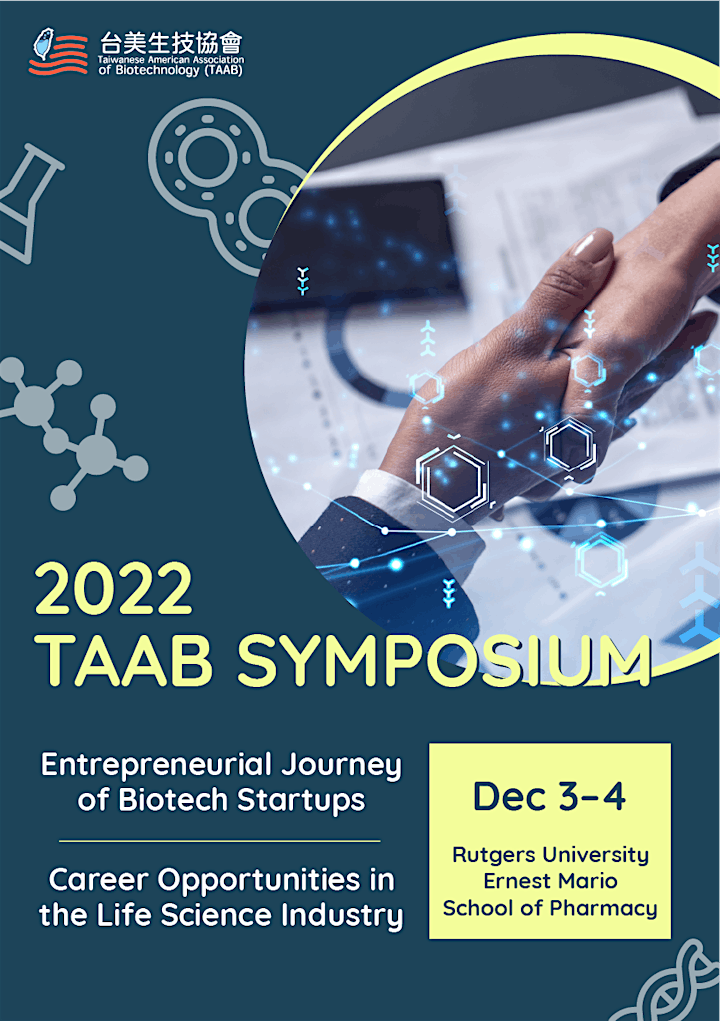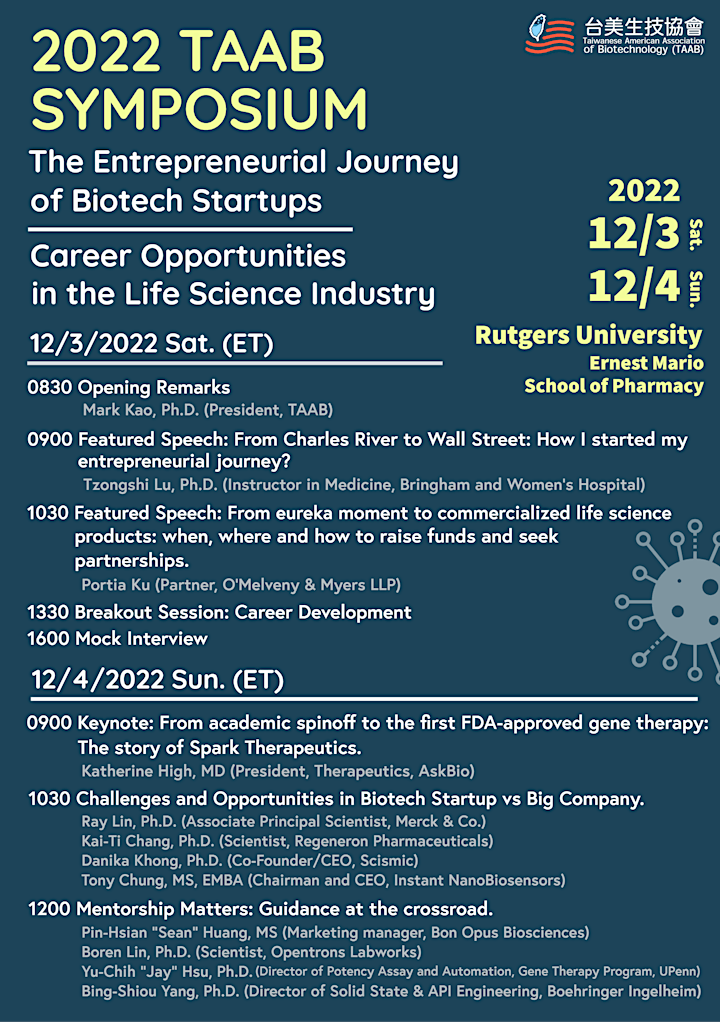 We cordially welcome you to join the 2022 TAAB Symposium and network with other Taiwanese American biotech professionals, enhance your hard & soft skills, and broaden your career options and advancement perspectives.
More details regarding the program and speakers can be found on the TAAB Facebook , LinkedIn pages, or our website. Please stay tuned for updates on the 2022 TAAB Symposium schedule and the TAAB Mentoring program.
[Webex Event Links will be sent to participants at 9 am on 11/25/2022 (Friday). If you did not receive the links, please email us at taabustw@gmail.com]
Tickets (First-day Lunch and Coffee/Snacks are included)
General admission for TAAB member: $25 / ticket
Early bird for non-TAAB member: $25 / ticket
Regular for non-TAAB member: $35 / ticket
Ticket at the gate: $35 / ticket
For speakers and panelists, please register by choosing Speakers and Panelists (Free) or online (free) even if you are going to attend in-person so that you can attend the symposium for free and receive all meeting-related notifications from Eventbrite.
Membership
Join as a member to get the full benefits! (Don't forget to pay the 2022 membership fee!)
We are always looking for professionals in the biotechnology field or anyone who's interested in the field to join our network platform. We invite you to become a member of TAAB and unveil the member benefits, including the prospective mentoring program that connects members to professionals for career advice and coaching.
We look forward to seeing you!
Parking Information
Guests must use the below link to register for the event parking in advance!!
https://rudots.nupark.com/v2/portal/eventregister/19919200-d785-401c-afa9-f3d63a4ed18b#/events/registration/
You can park at:
Rutgers University, Lot 58, Piscataway, NJ
(40.52571056360239, -74.4664026654714)
Rutgers University, Lot 58A, Piscataway, NJ
(40.52604900119344, -74.46672989497017)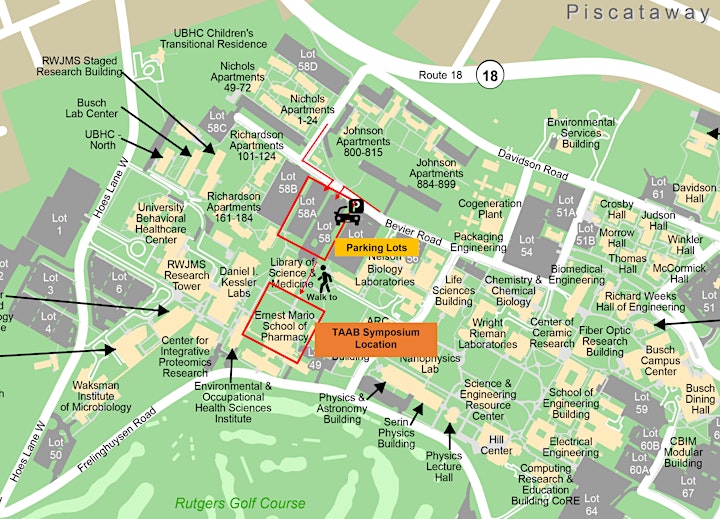 **COVID-19 Practice**
The event will follow the CDC, New Jersey State Government, and Rutgers University COVID-19 guidelines. Here are the announcement and guidelines which will be implemented in the 2022 TAAB Symposium.
– Masks are optional throughout the Symposium.
– Hand sanitizers will be provided on-site.
– Full Vaccinations are recommended.
Organizers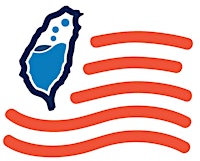 ​​Taiwanese American Association of Biotechnology​​ (TAAB)
About the Organizers
TAAB's missions are to promote biopharmaceutical and technological exchanges and business cooperation between the United States and Taiwan. TAAB's aims are to promote communication, coordination and cooperation of scientists, policy makers, government officials, and educators between the United States and Taiwan. More information can be found on our website and Facebook page.
Visited 13 times, 1 Visit today