Event Description
On behalf of Congresswoman Yvette Clarke, Assembly Member Brian Cunningham, and City Council Member Rita Joseph, we would like to thank all
Every year we challenge students in our districts to create and submit their original apps for a chance to win the Congressional App Challenge (CAC). Each challenge is district-specific. As U.S. Representatives we publicly recognize our winning teams and each winning app may be put on display in the U.S. Capitol Building for one year. Additional prizes may be available. The Congressional Internet Caucus initiates the annual CAC. We have appointed the non-profit Internet Education Foundation to provide the CAC with supplemental staffing and support.
THE CONGRESSIONAL APP CHALLENGE'S MISSION IS TO INSPIRE, INCLUDE, AND INNOVATE EFFORTS AROUND STEM, CODING, AND COMPUTER SCIENCE EDUCATION.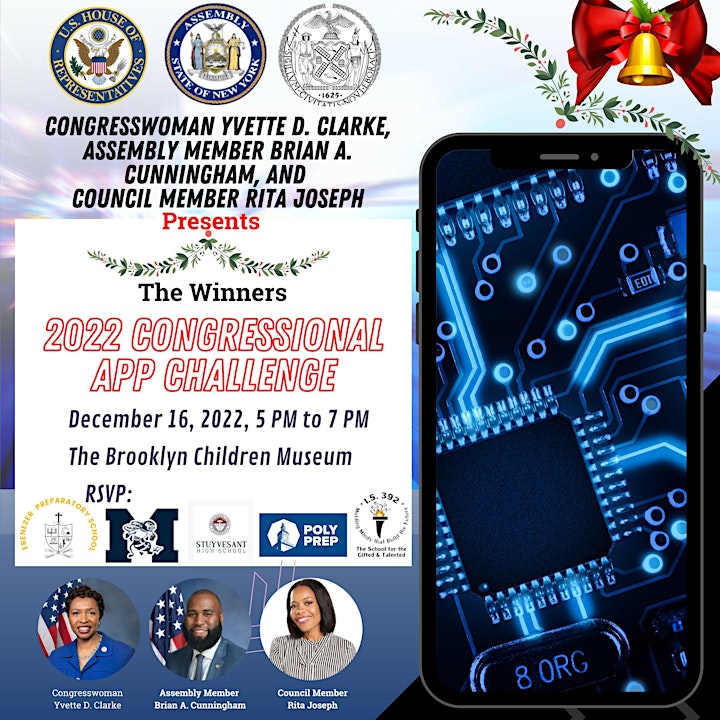 Organizers
Congresswoman Yvette D. Clarke
About the Organizers
The United States House of Representatives is the lower house of the United States Congress, with the Senate being the upper house.
Visited 7 times, 1 Visit today