Event Description
2021 Theme: "The Big Reset: Digital Enterprises Shift into High Gear"
The 2021 On-line Community and Symposium will facilitate the exchange of ideas in an online environment that blends with the busy work schedules of executives during a time of economic, political and health instability.
Audience: The CIO Digital Edition targets CIOs, CDOs and other digital technology executives and emphasize leadership topics related to the use of digital technologies in the enterprise.
Purpose: The CIO Digital Edition brings together a community of MIT academic leaders, digital technology executives, and industry experts for a series of engaging discussions where the best in-the-trenches practices, actionable insights, and new ideas will be shared and debated.
On-line Community: This community will foster relationship building over the long-term and will be implemented on Mighty Networks, a community platform. Symposium tickets include a 2 year membership in the new MIT Sloan CIO Community. When the Symposium is not in session, members will retain access to each other, shared resources, and additional events. Content overload is not the goal, rather, the community is a place to build connections and continue discussions that surface during the annual Symposium.
The MIT Sloan CIO Symposium will last for eight weeks (April 5 – May 28, 2021) and each week will have a unique focus:
Program Introduction and Orientation
Future of Work
Digital Innovation
Digitalization Trends
Innovation Challenges
Enterprise Leadership
Enterprise Strategy
Closing and Town Hall Meeting
You may also qualify for an additional Loyalty Discount. If you registered for the Symposium in 2019 or the Digital Learning Series in 2020, you get an additional 50% off. Please use promo code: "2019-2020_attendee" to reduce your ticket price to $347.50.
You need to input the code first before filling out the form.
MIT Staff and Alums: For a $347.50 ticket (50% off), use promo code: "MIT_alum" or "MIT_staff".
MIT Full-time Students: Ticket is $59. Use promo code: "MIT_student".
Organizers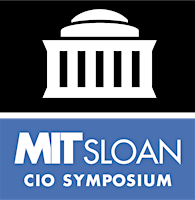 About the Organizers
What is the MIT Sloan CIO Symposium? The MIT Sloan CIO Symposium is the nation's premier CIO event bringing together information technology executives from around the world and leading faculty from MIT. The annual event offers a day of interactive learning and thought-provoking discourse on the future of technology, best practices, and business that is not available anywhere else. It includes presentations, panels, networking and a closing reception.
Visited 172 times, 1 Visit today