Event Description
FAPA Pilot Job Fair 830 AM – 12 PM
FAPA Pilot Job Fair 830 AM – 12 PM: For job-hunting pilots with a minimum of 250 hours or a commercial certificate
Location: Marriott Fort Lauderdale Airport, 166 N. Compass Way, Dania Beach, FL 33004, (954) 802-7543
Parking: $15 (plus 7% tax) daily valet parking (event day only) or $25 overnight valet parking.
Airport Shuttle: Scheduled and complimentary from FLL
FAPA's monthly Pilot Job Fairs bring recruiters from vairous pilot employers together in one place to speak directly with job-hunting pilots. Come and get a better understanding of what each company is offering, how they're different, or what makes them the right choice for you; some companies will even interview you, right on the spot! Bring plenty of résumés, along with one for FAPA upon admission. All attendees must register.
Visit FAPA.aero/Jobs for more details, the current list of recruiting companies and their respective hiring minimums, or to learn about future monthly events. Please print your ticket or have the QR code ready to scan on your mobile device upon check-in.
If you have less than 250 hours or do not have a commercial certificate, please register for the FAPA Future Pilot Forum from 1 PM – 5 PM in the same location to learn about the pathways to a professional pilot career.
Organizers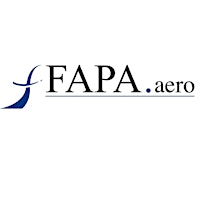 About the Organizers
FAPA Pilot Job Fairs(For Job seeking pilots with a minimum of 250 hours or a commercial certificate)FAPA Pilot Job Fairs bring recruiters and active pilots together. Job-seeking, qualified pilots with more than 250 hours (required minimum to attend) or a commercial certificate should pre-register here on Eventbrite. Visit FAPA.aero/Jobs for more details and the current list of airlines attending. FAPA Future Pilot Forums(For Career Changers, Non-Aviation Separating Military Personnel & Students of All Ages):FAPA (Future and Active Pilot Advisors), is Building the Pilot Pipeline by inviting career changers and aspiring pilots of all ages – career changers, students and their families, non-aviation separating military personnel, and future pilots of all backgrounds – to FAPA Future Pilot Forums to learn about the pathways to a professional pilot career. School counselors are also encouraged to attend so they can best guide their students on how to navigate an interest in aviation. 
Visited 21 times, 1 Visit today