Event Description
Family Friendly Coding Conference for Girls, Parents, Educators and Tech Enthusiasts
🟣 About Event 🟣
Code/Art Fest is an annual gathering to celebrate the achievements of young female coders and to increase awareness of opportunities in computing fields. This one-of-a-kind conference is for students, parents, educators, artists, and anyone interested in the intersection of tech & art.
Participants will:
Receive a free Code/Art T-shirt! (available for first 50 students)
Receive free lunch on site (while supplies last)
Enter raffles to win prizes like: family membership to Frost Museum, family passes to Miami Zoo and more!
Hear from inspirational female-identifying Speakers & Artists. See speakers.
Attend hands-on tech workshops for students (elementary & middle school track + teen & up track). Please pre-register at check out and bring a laptop!
Enjoy a digital art exhibit featuring projects created by Code/Artists who've participated in our 2022-2023 Coding Competitions
Watch student innovators pitch their projects during our ChangeMaker Pitch Competition. Winning team will receive a $5,000 grand prize! Learn More
Celebrate the 2023 winners and finalists of Code/Art's annual All-Girls Coding Competitions: CodeYourSelf, Coded Animated Art and ChangeMaker Challenge (Entry deadline is Feb. 17, 2023)
Educator Track PD for South Florida Teachers. Track consists of workshops that will resource teachers with materials, lesson plan ideas, and the confidence to teach coding lessons to their students. Click Here to Register
**This event will be filmed and photographed. By attending the event, you and your guests give consent to be filmed and photographed.**
Interested in being an event volunteer? Sign up Here!
🟣 Agenda 🟣
10:30 am – 11:30 am – Pre-event student workshops (add-on $5 ticket at checkout)
11:30 am – 12:30 pm – Pre-event student workshops (add-on $5 ticket at checkout)
11:30 am – 12:30 pm – Pre-event Show & Tell Session: AR/VR & The Metaverse for all ages
12:00 pm – DOORS OPEN: Registration, Digital Art Exhibit, STEAM Expo & Self-Portrait Voting Opens
1:00pm – 2:00pm – Main Stage Event – Kickoff & Opening Keynote – Emily Reid
2:15pm – 3:15pm – Main Stage Event – Women in Art & Tech Panel
2:15pm – 3:15pm – Student workshops (add-on $5 ticket at checkout)
3:30pm – 4:30pm – Main Stage Event – ChangeMaker Live Pitch Competition
3:30pm – 4:30pm – NEW! Tech es Para Todos – Spanish Speaker Panel for parents & ESL Students
4:45pm – 5:45pm – Main Stage Event – Closing Keynote Speaker – Ari Melenciano
5:45pm – 6:30pm – Main Stage Event – Closing Awards Ceremony (Annual All-Girls Coding Competition)
🟣 Speakers 🟣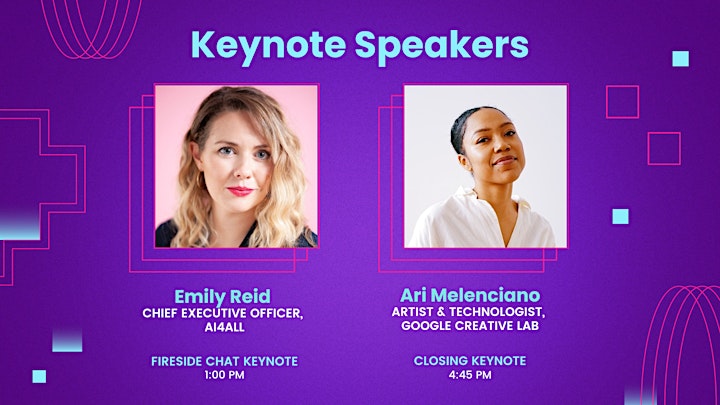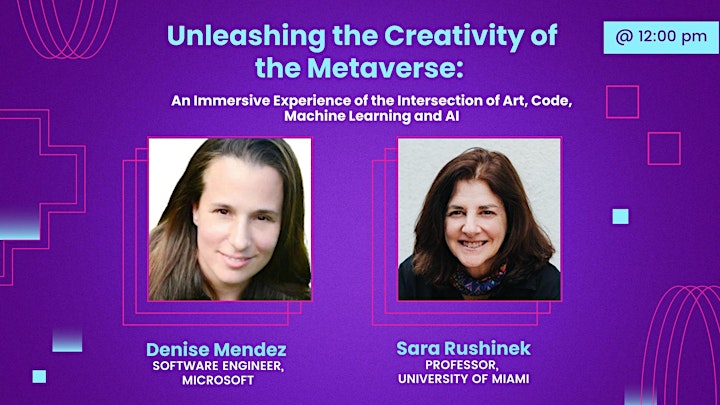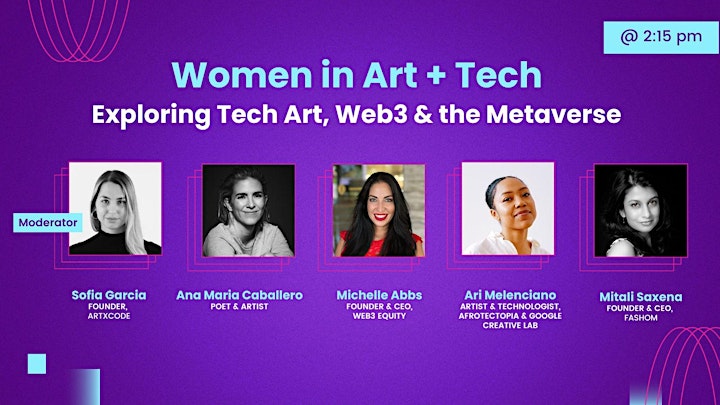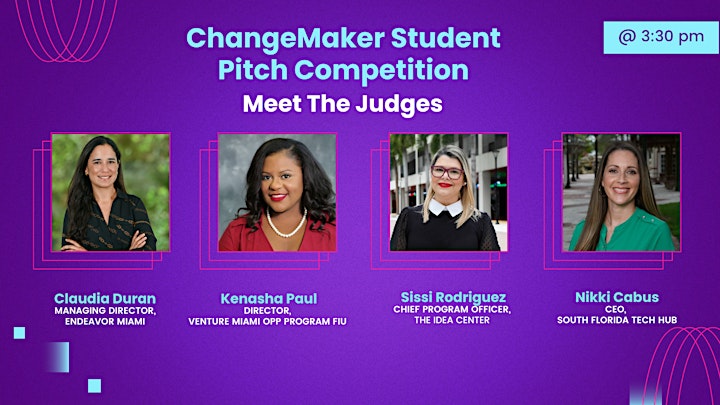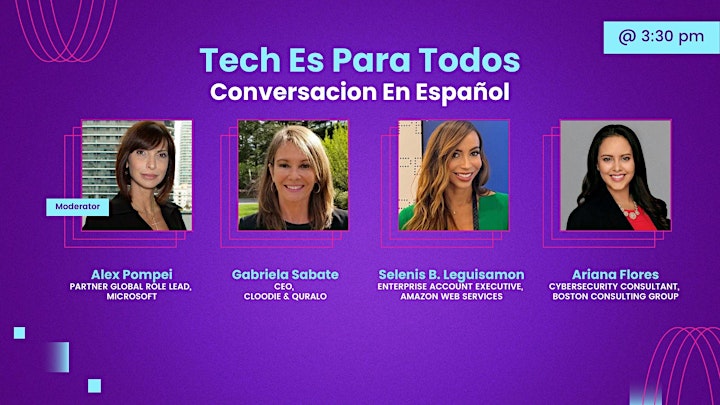 🟣 Parking Instructions 🟣
Venue Address: The Idea Center at Miami Dade College – 315 Northeast 2nd Avenue Building 8, 5th Floor, Miami, FL 33132
Free parking available in garage building #7 located at 500 NE 2nd Ave (Entrance on NE 6th Street). See a campus map
Follow @codeartorg for updates!
🟣 Code/Art Fest 2023 Sponsors 🟣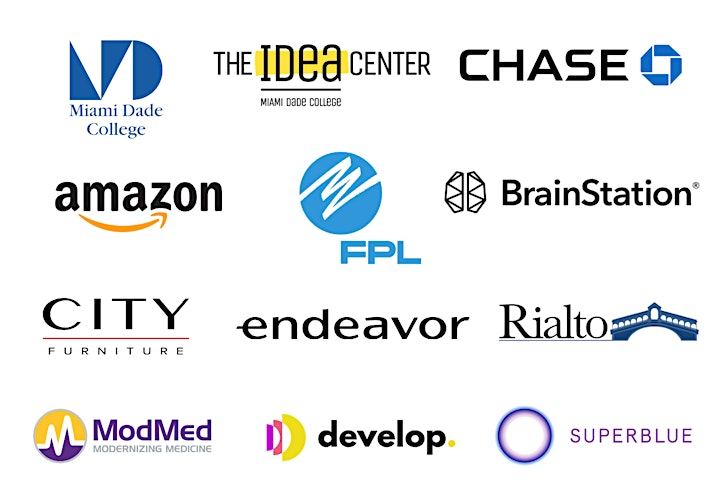 🟣 Content & Community Partners 🟣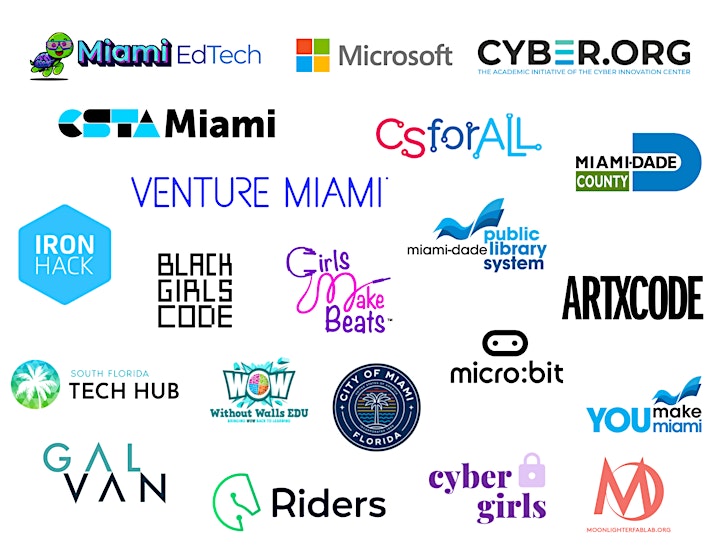 Sponsorship Opportunities
To learn more about sponsorship opportunities email us at info@code-art.com.
Organizers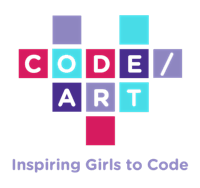 About the Organizers
Code/Art is a non-profit whose mission is to increase the number of girls studying computer science by delighting and inspiring them with the creative possibilities of computer programming. We strive to put young women, particularly young women from underrepresented racial and ethnic groups, on track for future tech careers by providing welcoming early coding programs that focus on art, creativity and social good. Code/Art uses art as an onramp to coding for girls in grades 3-12 using its three key programs: after school CodeHER Clubs, Professional Development for K-12 teachers, and Code/Art Fest, an annual celebration of girls in coding.
Visited 7 times, 1 Visit today