Event Description
8,000+ marketers in a giant Shoreditch car park transformed into an al fresco summer playground – what's not to like?
If you enjoyed hanging out in a car park with the great + good at MAD//Fest London 2021, 2022's event is going to blow your mind!
We're back on 5-7 July 2022 + yes, we've got 3 days of inspiration, innovation, fun + food for you to look forward to at the UK's boldest + most distinctive marketing event. So grab your tickets, save the date + start getting in the mood to meet 8,000+ brands, challengers + agencies at the UK's biggest celebration of marketing, advertising + disruption!
twitter: @madfestlondon
instagram: @madfestlondon
Organizers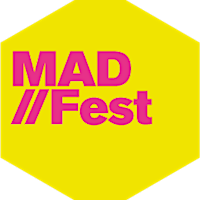 About the Organizers
Like many good ideas, MAD//Fest came to fruition in a pub. A motley crew of marketers, start-ups, disruptors, tech types and media folk started talking about events over a few beers. Wouldn't it be good if there was an event that actually brought together the great and the good? Something that packs a punch with no-nonsense, relevant content? A space where people can have a bit of fun rather than fall asleep in the back row? And so, three pints in, MAD//Fest was born. We believe in making an event that people want, not force feeding the same tired trade show format on people who want more value for their time and money. This means bucketloads of inspiring content and thousands of cherry-picked industry influencers to meet and feast on new ideas, relationships and partnerships So this event is for you, the people who are carving out the future of marketing, advertising and technology. Meet the biggest brands and freshest start-ups. Join our celebration of London's unique identity as a hub of innovation, creativity and culture.
Visited 15 times, 1 Visit today