Event Description
How To Academy presents…How to Talk to Robots – A Girl's Guide To A Future Dominated by AI | Tabitha Goldstaub in conversation with Sinead
It's time to demystify the daunting, male-dominated world of artificial Intelligence. Tech entrepreneur Tabitha Goldstaub is here to make sure AI works for us – not us for it.

AI is everywhere. From tracking your spending habits, to creating the latest filter on Instagram to job applications, AI is playing a part in how we all work, live and play. And so, the risk of biased technology is real.
In conversation with New York based model and futurist Sinead Bovell, tech entrepreneur and chair of the UK Government AI Council Tabitha Goldstaub will break down the barriers and offer a straightforward introduction to the world of Artificial Intelligence.
Wherever you are in life and whatever you do, AI is inescapable. Now is the time to make sense of this new world – and use your knowledge to successfully navigate the future.
Praise for Tabitha Goldstaub:

'…an essential and fascinating manual for every woman who wants to understand equality within an ever-changing, modern world.' – Scarlett Curtis
'Fast becoming one of the best-connected women in the UK…. Goldstaub is one of a small yet influential number of women who are reshaping the world of tech and how it reads – and interacts with our minds and bodies.' – Vogue
'There's a revolution under way ― and a woman called Tabitha Goldstaub is on a mission to make sure not only that London takes the lead but that women are given an equal role in it.' – Evening Standard
'Tabitha Goldstaub…is particularly alarmed by AI's potential for gender bias and, in an effort to address this, is spearheading a campaign to get more women working in the field.' – Guardian
'…she's on a mission to make sure women are given an equal role in it [AI].' – Grazia
Tabitha Goldstaub is a tech entrepreneur and co-founder of CogX a Knowledge Network and yearly Festival. She is also the Chair of the UK Government's AI Council and a recipient of the Amy Johnson Inspiration Award by the Women's Engineering Society which honours an individual who isn't an engineer but has made a truly remarkable achievement in furthering diversity within engineering and applied sciences. This is her first book.
Sinead Bovell is a Futurist and the Founder and CEO of WAYE, an organization that prepares youth for a future with advanced technologies. To date, Bovell has educated over 10k young entrepreneurs on the intersection of technology and the future, and has spoken at world renowned institutions such as the United Nations, the U.S. Chamber of Commerce, Bloomberg, and Cornell University on the future of technology. Bovell has a Bachelor's degree in Finance and Chemistry, and an MBA from the University of Toronto.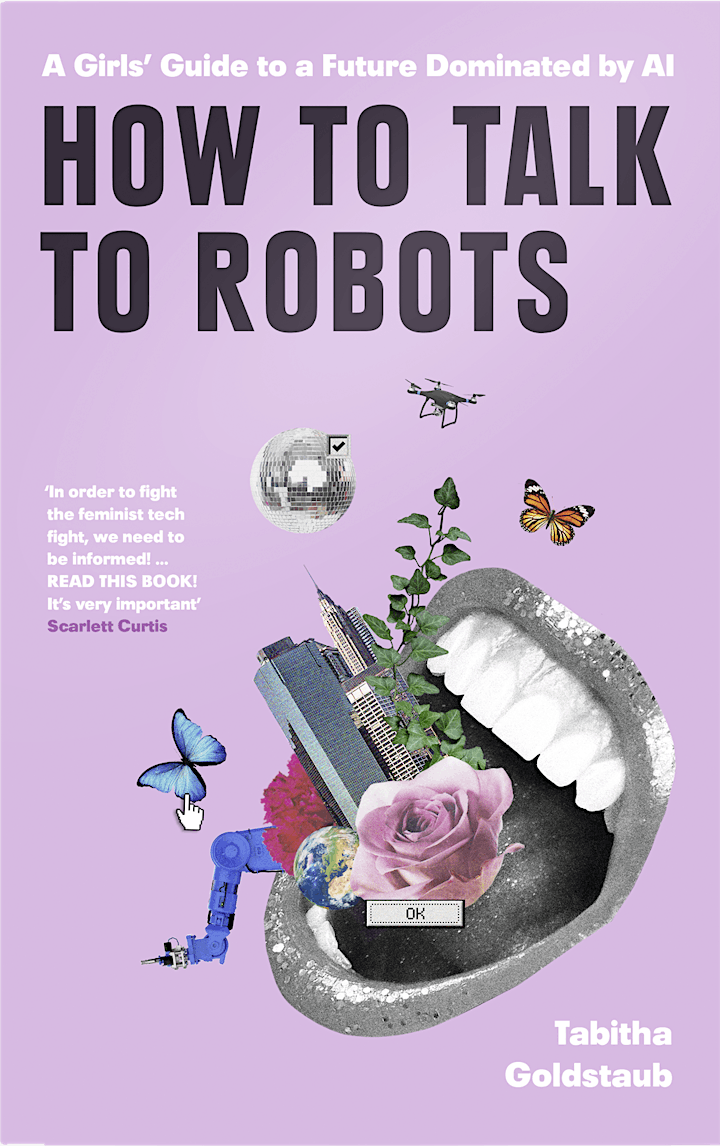 Organizers
About the Organizers
How To Academy is an organisation for people who think big. From Nobel laureates to Pulitzer Prize winners, we invite the world's most influential voices to London to share new ideas for changing ourselves, our communities, and the world.  We host leading artists and thinkers in an unrivalled programme of public talks, debates and conferences – from Yuval Noah Harari to Natalie Portman, Emma Watson to Eric Schmidt. We help businesses discover transformative new strategies, anticipate the future, and inspire their staff with keynotes and workshops by internationally-acclaimed economists, psychologists, politicians, and thought leaders.  We offer masterclasses live and online with experts in essential twenty-first century skills, like leadership, public-speaking, decision-making and resilience. And we make books, podcasts and films to share insight and innovation around the world.
Visited 32 times, 1 Visit today