Event Description
Enterprise Engagement Workshop: Building successful FinTech partnerships with financial institutions
Financial institutions and FinTechs have unique strengths that when brought together can be very powerful. Financial institutions possess market share and well-established relationships with their customers, often developed over many years. Meanwhile, FinTechs offer specialist technical knowledge and an agile approach to innovation, enabling them to improve inefficient processes and build powerful digital solutions.
EY and Rise, created by Barclays will be hosting an interactive panel discussion looking at the journey, challenges and opportunities for FinTechs selling into and collaborating with large financial institutions, and the key enablers of success. You'll hear first-hand successful scale-ups that have delivered enterprise contracts.
Topics covered
What are the key attributes of a successful sale into a financial institution?
What are the key pain points encountered when setting up collaborative projects
How delivery partners can support speed of adoption
Moderator
Alex McLaren, senior manager leading EY UK FinTech collaboration proposition
Speakers
Mark McNerney, Global Alliances Director at Quantexa – Mark is responsible for Quantexa's global partner ecosystem, with a go-to-market focus at driving business growth via partners and together delivering value to global client base.
Philip Dutton, Co-Founder and Co-CEO of Solidatus, leading data lineage business relationship and conceptual modelling tool that enables the effective management of data, people and processes. With over 20 years' tech experience, Philip has managed global transformational change projects within the Financial Services and Tech industries.
Sonal Lakhani, Head of Programmes and Strategic Initiatives at Barclays. Sonal is responsible for Global Open Innovation Programmes for Barclays that create partnerships between the bank and Fintechs through sourcing, nurturing and assessing partnerships and developing opportunities for collaboration with Barclays. She is also the lead on the gender diversity agenda for Group Innovation Office which supports female founders, and women in Fintech.
Organizers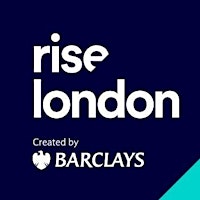 About the Organizers
Rise is a global community of start-ups and corporates creating the future of commerce and fintech by helping start-ups and entrepreneurs connect, co-create, and scale innovation. Created by Barclays, we listen, nurture and oxygenate through our international network of Rise hubs. Rise also houses a world-class event space and is home to the London cohort of the Barclays Accelerator, powered by Techstars.
Visited 71 times, 1 Visit today