Event Description
Join us on Tuesday 28th September for a very practical Lunch & Learn session, where we'll explore the benefits of the CIPD Professional Map.
The session will explore how you can use the Profession Map to assess yourself and step into a HR management role.
Our guests speakers will give you an overview of the map, focusing on how this can be used to support your professional development.
We'll also hear from HR professionals that have used this tool and successfully stepped up into a management role, and finally it will be your chance to give it a go, use the map and then share your learning and findings with other HR professionals on the session.
Speakers:
Miriam Stephens, Head of Organisation Assessment and CPD for CIPD
22 years 'experience in the people profession, mostly in talent, L&D and ODNew
Head of Organisation Assessment and CPD for CIPD, assessing people teams against the Profession Map standards
Miriam designed and developed the Profession Map, and the non-qualification routes into membership.
Natalie Ellis, Rebox HR.
HR Consultant providing a high-quality HR service to over 60 clients in UK.
Creator of the "HR Acts of Kindness" social media movement in 2016.
Natalie published her first book "Launch Your HR Career" and won "Best Virtual Consultancy" in November 2020.
Timings:
12:00 – Start of the session
13:15 – Closing
Please note:
Webinar joining instructions will be sent to you 2 days before the event (with further reminders 2 hours prior to the session and 20mins prior to the session).
The webinar will start at 12:00 and run for about 45 minutes.
We will record the webinar and will share will people afterwards. We will be using the recording to upload it to CIPD channels.
The chat function will be used for participants to engage with the webinar, rather than audio and video, so just be mindful of the login name you use and ensure you are happy for other people to see this.
Professional photography and video production may be taking place at the event, and these images and videos may be used on future promotional materials for CIPD.
By attending the event, you are giving your consent for your image to be used on any CIPD promotional materials.
For security reasons, it is requested that participants join the live session 10 minutes prior to the scheduled start time and with the same name as registered on Eventbrite as not doing so may cause a delay or non-admittance to the event.
Organizers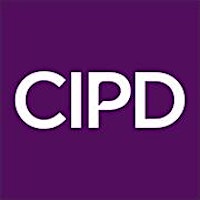 CIPD Central London Branch
About the Organizers
The Chartered Institute of Personnel and Development is a professional association for human resource management professionals.
Visited 29 times, 1 Visit today