Event Description
Join us to gain insight from the industry's biggest names & achieve the competitive edge to accelerate your professional growth.
WE ARE BACK AND IN PERSON!
Join us on the 23rd of March in London (venue to be announced) to learn and network with the top business and sales leaders responsible for some of the fastest growing SaaS companies in the UK and Europe.
Our evening events are the perfect place to gain invaluable insight from the industry's biggest names and achieve the competitive edge necessary to accelerate your own growth and success.
We are a community built to belong rather than compete so if you want to become a better Sales Leader, Revenue Leader, Manager or Founder this is the only event in London you need to attend.
Why come?
You will gain the knowledge and insight that is necessary to confidently and competently lead your organisation.
We want you to not only have fun networking with the professionals and companies who are at the top of their game but for you to come away with new techniques in questioning, closing and gaining sales commitment, using modern-sales best practise and much, much more!
Your entry includes food and drink and high-quality networking.
Our events are always a sell-out so make sure to buy your ticket now to secure your place!
Who is it for?
Sales Leaders (CROs, Sales VPs, Sales Managers)
Revenue Leaders (Marketing, Sales Ops and Enablement)
SaaS Founders and Investors
Content for the evening:
We host a speaker panel comprising of 7-minute talks in person from peers leading the way in the industry who share the processes and tools that can help you to navigate the fundamentals of modern-sales best practise and optimise maximum revenue outcomes.
We want to connect you with like-minded people from the likes of SalesLoft, G2, LinkedIn, Xactly, Salesforce and many, many more fast-growth companies at the heart of the digital economy.
Co-Host
– TBA
Opening
– TBA
Speakers:
Speaker 1 – TBA
Speaker 2 – TBA
Speaker 3 – TBA
What's unique about us?
We provide a safe and welcoming environment where you can have fun, express yourself without judgment, be curious and learn from the best in class. A community where you belong rather than compete.
Covid-19
On purchasing your ticket you confirm you have either been double vaccinated or acknowledge you are attending the event at your own risk.
Refunds
Refunds are only available if the government prevents the go-ahead of this event. Tickets are 100% transferable so pass it onto a friend if you can not make it.
About Us
Sales Confidence vision is to build the world's most valuable B2B Sales community, elevate the sales profession and help sales professionals be the best they can be through achieving peak performance, growth mindset awareness and positive wellbeing.
Learn more www.salesconfidence.com
Our Partners:
Diamond Sponsor
Salesloft – The leading sales engagement platform, helping sales organisations to deliver a better sales experience for their customers. Visit www.salesloft.com.
Titanium Sponsors
Gong – Industry-leading revenue intelligence platform
Visit www.gong.io
Drift – No 1 Revenue acceleration platform for sales and marketing teams
Visit www.drift.com
Platinum Sponsors
Varicent – Industry-Leading Sales Performance Management software
Visit www.varicent.com
Venatrix – London's No. 1 SaaS sales talent partner.
Visit www.venatrixuk.com
Aircall – The phone system for modern business.
MindTickle – sales readiness and enablement that fuels revenue growth
Visit www.mindtickle.com
Demodesk – The first intelligent meeting platform for remote sales
Visit www.demodesk.com
Gold Sponsors
Cognism | Sales Psyche | Refract | SalesWorks | Air Marketing | GetAccept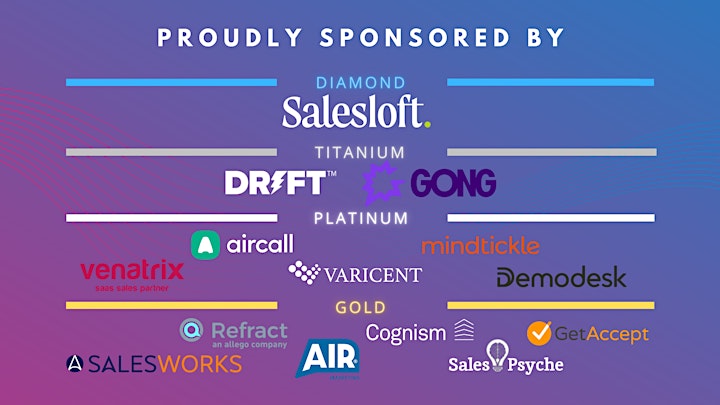 Organizers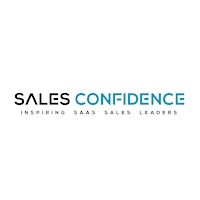 Sales Confidence - London - UK
About the Organizers
Sales Confidence is a growing movement that champions the UK's SaaS founders, sales leaders and the next generation of SaaS sales talent. We love our work and are excited about helping build and grow the UK's digital economy and are passionate about helping young people as they progress through their careers. Our events have been hosted by Salesforce, Gocardless, Peakon, Okta and other saas companies.            
Visited 22 times, 1 Visit today