Event Description
Join Miquel Noguer I Alonso for a discussion on the latest developments in Artificial Intelligence and the Future of Quantitative Finance
Artificial Intelligence in Finance Institute (AIFI) – WBS Training: Artificial Intelligence in Quant Finance Webinar Series:
Artificial Intelligence and the Future of Quantitative Finance
Date: 21st July 2021
Time: 10.00 EST / 1500 BST / 16.00 CET
Duration: 1 hour
Miquel Noguer I Alonso PhD founder of Artificial Intelligence in Finance Institute (AIFI) and two other Faculty Members will have a conversation on the 21st of July 10.00 am EST 2021 about AI and the future of quantitative finance. Quantitative Finance is modelling financial asset returns and risks, portfolio allocation, price options and model volatility and model ESG investing.
Al these areas require the use of advanced algorithms and different combinations of datasets, high and low frequencies, numerical and categorical variables, structured and unstructured data, time series and cross sectional data with highly multidimensional spaces and potentially non-stationary environments.
Traditional econometrics models, factor models option and volatility pricing models as well as portfolio optimization approaches have been used to deal with all these challenges.
Machine learning, Reinforcement Learning and Natural Language processing offer new tools for quants to build financial engineering models to deal with these issues. We will explore in a panel session how these new tools are and will be used in different contexts.
We will cover in detail all these topics in our AIFI Summer Bootcamp from 23rd of August to the 3rd of September 2021. Delegates can then pass the AIFI certification.
Artificial Intelligence in Finance Institute (AIFI)
Structure:
10 days program: August 23rd – September 3rd 2021
Lectures: Online
40 Hours: Lectures + Practice + Speakers
SUPER EARLY BIRD DISCOUNT: 25% until 25th June 2021
EARLY BIRD DISCOUNT: 15% until 30th July 2021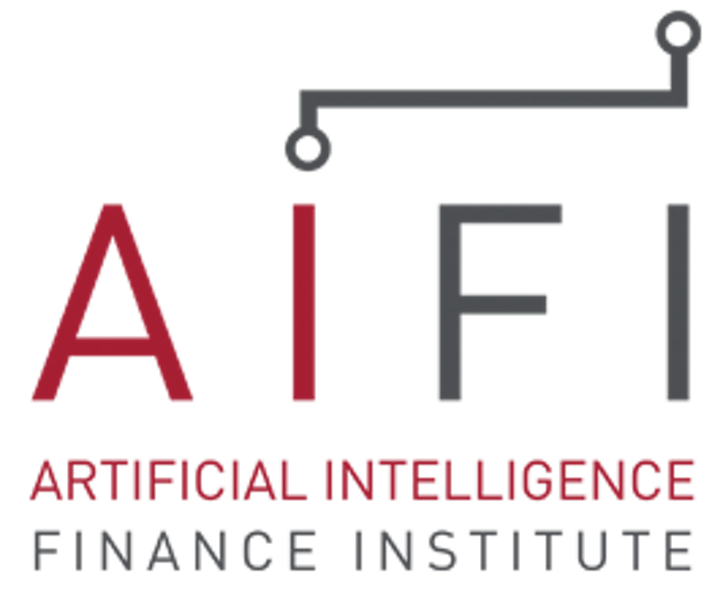 Artificial Intelligence in Finance Institute offers the most advanced training and Research on Artificial Intelligence in Finance globally. Please visit our website www.aifinanceinstitute.com, reach us on social media or via email: info@aifinanceinstitute.com.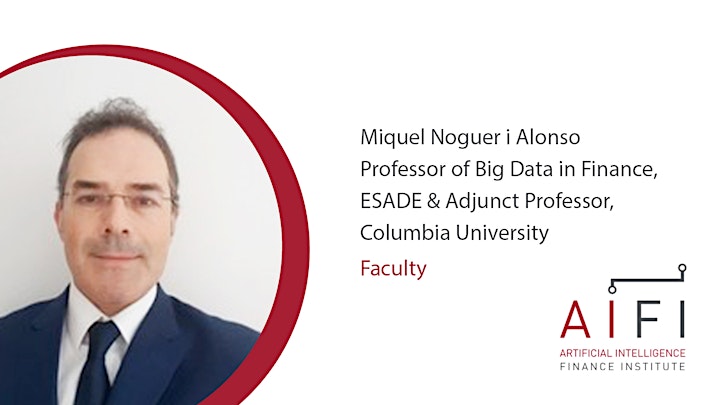 Miquel Noguer i Alonso – Co-Founder & Chief Executive Officer
Miquel Noguer is a financial markets practitioner with more than 20 years of experience in asset management, he is currently Head of Development at Global AI ( Big Data Artificial Intelligence in Finance company ) and Head on Innovation and Technology at IEF.He worked for UBS AG (Switzerland) as Executive Director.for the last 10 years. He worked as a Chief Investment Office and CIO for Andbank from 2000 to 2006.He is professor of Big Data in Finance at ESADE and Adjunct Professor at Columbia University teaching Asset Allocation, Big Data in Finance and Fintech. He received an MBA and a Degree in business administration and economics in ESADE in 1993. In 2010 he earned a PhD in quantitative finance with a Summa Cum Laude distinction (UNED – Madrid Spain).
About the Organizers
WBS Training Ltd organizes workshops and conferences for the capital markets and treasury divisions of investment companies worldwide, with all our efforts centered solely on the education of our clients. WBS Training does not operate to present dozens of events every year. Instead we select only the most innovative, pertinent and dynamic subjects, thus bridging the gap between the latest theoretical developments through to proven practical trading floor requirements. Therefore, we aim to ensure that such requirements can be effectively implemented in the real financial world. Our depth of experience within the training environment provides us with a greater knowledge and understanding of what our clients require from financial business training. This promotes the unique position of us delivering the quality and service that is crucial to our client's continued success and competitive advantage in the market place.
Visited 30 times, 1 Visit today