Event Description
JSworld Conference is the Worlds Premier Javascript Conference of 2021.
JS World Conference
22-27th February 2021 | ONLINE
Free JSworld Conference is the Worlds Premier Javascript Conference of 2021.
JSworld Conference Online is the Largest & Most Epic Javascript Conference and Community Event of 2021. Learn & Talk directly with the Javascript Frontend Developer Leaders from around the world
JSworld conference by Frontend Love takes place Monday 22nd February to Saturday 27th February 2021.
100+ Talks, 20 Topics, Panel Discussions, Indepth Interviews & Updates from Creators of Libraries & Authors.
Friday 26th February we begin with Vuejs Amsterdam 24 Hour Conference the Largest & Most Epic Vue Conference in the World
JOIN THE COMMUNITY & SPEAKERS LIVE
Speak with the Javascript Community & Speakers during the Conference days. Join your work colleagues, make new friends, ask the Speakers your questions online. Q&A Rooms after the Speaker has delivered their keynote, get instant feedback on your questions. Networking Functions 1-on-1 and group networking options to connect with new peers.
UNIQUE CONTENT SPEAKER INTERVIEWS & PANEL DISCUSSIONS
During JSworld Conference there will be Interviews with the Speakers. Hear from the Javascript Experts what the future brings for web development. There will also be Unique Panel Discussions on the hottest Javascript Topics.
VIRTUAL EVENT ACCESS
Virtual Event Platform Hopin giving you access to the Conference Live Stream with Talks, Panel Discussions, In-Depth Interviews, Q&A Sessions, Networking Possibilities and Chat with Community Members.
Join 50,000 Javascript Enthusiasts for a full week of content to help you become a more competent Frontend Javascript Developer
Five awesome days of content
Day 1 – Designops – HTML, CSS, Design Systems, Accessibility, Localization, i18n
Day 2 – Full-Stack – TypeScript, Node.js, GraphQL, Express.JS, Redwood.js
Day 3 – Devops – AWS, Azure, Google Cloud, Serverless Framework
Day 4 – Javascript – React, Angular, Svelte.js, Next.js, Babel, Webpack
Day 5 – Vuejs Amsterdam 24 hour Online Conference – Vue.js, Vue Router, Vuetify, Nuxt.js, Gridsome, VitePress, Vite, VueCLI and more..

Conference Recording Ticket
At only €49 you purchase a ticket for Access to All Conference Recordings. With access to all conference recordings, you can watch all Conference Video Recordings whenever you want.
This means you have access to the recordings of 100 conference talks, Interviews and Panel discussion without having to attend them all live during the JSworld Conference broadcast.
All recordings of:
10 1-hour pre-recorded workshops,
All JSworld Conference Talks
Q&A Sessions with speakers
Interviews with Creators of Frameworks like Evan You the Creator of Vue, CEOs and Co-Authors of leading brands and technologies like Guillermo Rauch from Vercel & Next.js. Panel Discussions
Panel Discussions giving you insights on the eCommerce field, JavaScript hottest tech from Vite to Babel, Design Systems and more.
WORKSHOPS RECORDINGS
Your full access Ticket gives you the chance to join 10+ Workshops taking place during Vuejs Amsterdam. All recordings of these workshops will also be available to full Experience Ticket Buyers.
Vue3 Composition API, Svelte.js, React with Graphql & Typescript, Advanced TypeScript, Building a Real Time Dashboard with React and Meteor, PWA with Sveltejs, A Headless Multi-CMS Approach, Nextjs on AWS, Vue3 Reactivity Revealed and more Workshops to be announced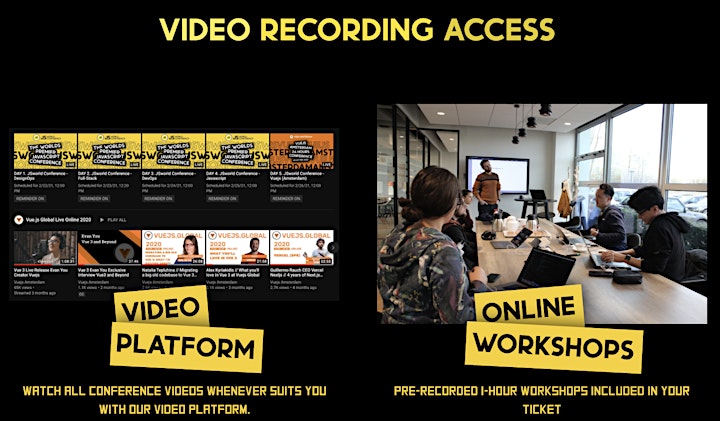 For the latest updates on the event, check our website:
Organizers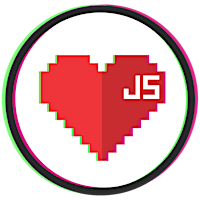 Frontend Love Conferences
About the Organizers
Frontend Love Conferences runs the Largest and Most Epic Javascript Conferences.We bring together Global Javascript Leaders for the benefit of the Frontend Javascript Community.We have had over 6,000 paying customers to our conferences so far.But our Frontend Developer Conferences attract people from all over the world with people traveling and tuning in from over 100 countries to visit our events in person or online.We are proud to run www.frontenddeveloperlove.com, www.reactlive.nl, www.angularnl.com, www.productupconference.com alongside running other smaller events in Barcelona, Paris & Berlin.We are proud to give back to the Javascript Frontend Community alongside our technical partner www.passionatepeople.io
Visited 114 times, 1 Visit today