Event Description
apidays LIVE Paris 2021 – APIs and the Future of Software | December 7, 8 & 9, 2021
If software is eating the world, APIs are now eating software. Digital infrastructure is expanding and becoming mandatory – this way forces companies to think in terms of API and develop API mindset.
Today's business can achieve its true and maximum value proposition only by connecting its entire ecosystem. When this ecosystem is digital, it implies using APIs.
New business models? APIs. New platform model? APIs. New partnership model? APIs. New distribution channels in third party applications? APIs. Using someone else's value proposition as-a-service? APIs. Cloud? APIs… It is APIs all the way down.
At apidays Paris, we will explore the business and the technical sides of how to navigate the API industry landscape in all its different layers.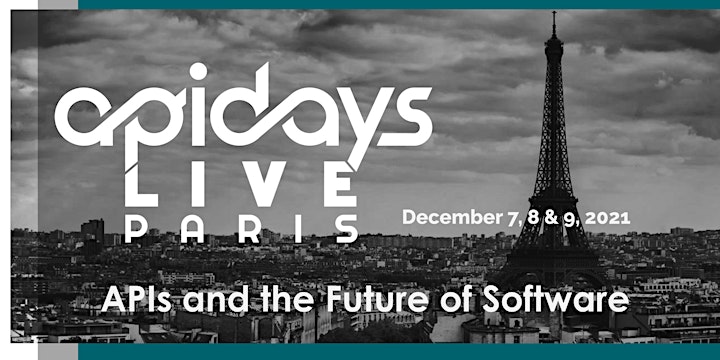 In 2020, apidays organized its biggest event of the year to address the following ways in which APIs can help organizations be more aligned with their IT capabilities and discussed how to be:
more reactive to change
more elastic to demand
more exponential in your reach
more integratable in your development
more consumable by innovators
The 2020 program gathered the top API business initiatives and API technologies to help API practitioners get the best of their IT and business, examining topics such as:
API-driven digital transformation and API Business cases
API lifecycle management
API design and Architecture
API Security and Identity
Developer experience
GraphQL
APIs and Microservices
In 2020, our line-up of SPEAKERS included:
Sangeet Paul Choudary, Founder of Platformed.info
Kin Lane, The API Evangelist
Nouamane Cherkaoui, CIO at Societe Generale Franfinance
Arnaud Lauret, The API Handyman & Author of "The Design of Web APIs"
Marion Hozé, Product Manager at Doctolib
Aurélien Bourdon, International Data Exchange Manager at Auchan Retail
Nizar Chaouch, Head of API, DevOps & Mixed Reality at Airbus
Marco Palladino, CTO and Co-Founder of Kong
Signarbieux Thibault, Team Leader API Transformation Program at Michelin
Cyril Vart, VP, Strategy at FABERNOVEL
Stijn Bannier, Digital Product Manager – Open API at Air France-KLM
Christina Voskoglou, Senior Director of Research at Slashdata
Monica Posada, Project Manager of the API Study, Senior Researcher of the European Commission, Joint Research Centre
Fran Méndez, Founder of AsyncAPI Initiative
Mike Amundsen, Author of "Designing and building Web APIs" and "Restful API Design"
Ilona Koren-Deutsch, Technical Documentation Manager at Twitch
Irakli Nadareishvili, Vice President, Core Innovation at Capital One
Jean Baptiste Aviat, Co-Founder & CTO at Sqreen.io
Phil Sturgeon, Developer Advocate at Stoplight
Isabelle Mauny, Field CTO and Co-Founder at 42Crunch
Kevin Echragy, Founder of hérétique
Ronnie Mitra, Author of "Microservice Architecture"
Pierre Burgy, Co-founder & CEO of Strapi
Organizers

apidays: World's leading series of API Conferences
About the Organizers
Created in 2012 in Paris, apidays has organized 50+ events in 13 countries, gathering over 30,000 attendees and 2,000+ speakers. Its aim is to democratize and evangelize the opportunities and the use of APIs for corporations and businesses to fully enter the next wave of the digital transformation, the era of automation.Watch Featured Conference Videos and Expert Talks here. Watch the 2020 conferences on-demand here.
Visited 90 times, 1 Visit today