Event Description
The Premiere Live Hybrid Event Exclusively for Greater Boston Customer Experience Leaders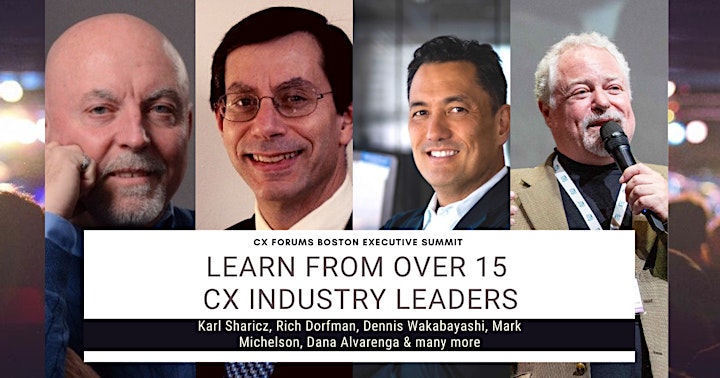 Connect, Learn and Get Inspired with Boston based customer experience leaders who have "been there and done that" in the world of CX.
In-Person and Online Networking with Greater Boston area CX leaders, before, during and after the Summit
Discuss Future Innovations in CX/UX and how to improve customer and employee experiences in the Post-COVID age
See the Latest Tools and Resources to help manage your CX practice
Virtual Hands On Workshops to expand your knowledge and hone your skills
The Boston Executive Summit brings together customer experience leaders from Greater Boston to network, share ideas and tips, expand skill sets and support each other in improving their unique CX initiatives.
Click Here for more info on speakers, agenda, sponsors
CX Forums Boston Executive Summit features 9 TED Talk style speakers, 2 Keynote speakers and a Panel of 4 CX Experts from leading local brands. Equally important, there are over 6 hours of time reserved for networking and small group discussions. Our speaker selection and topic lineup is guided by our local Advisory Board who select speakers from the Greater Boston area.
More Than a Meeting
As a hybrid event, CX Forums Boston Executive Summit is live both In-Person and Online. No more boring recorded webinars where you can only use the chat function to connect with others.
It's actually more than just a one day event as the Executive Summit includes several online meetings and in-person meetups leading to the Summit event at City Winery on April 19th.
Whether you choose an In-Person or Online experience, all attendees of the Executive Summit will have exclusive access to participate in:
Live Executive Summit sessions
Pre-event virtual meetings including: Meet the Speakers, Happy Hour w/CX Trivia, Speed Networking
Small group networking and Hot Topic Table Talks discussions
Year round networking with all attendees on the event app
Participation in contests and drawings to win prizes
Four optional virtual pre-event Hands-On Workshops
Why Attend?
During the pandemic there have been a lot of changes in the way people shop, what they need and expect in terms of service, quality and overall experience. CX Forums Executive Summit is the place to learn what CX leaders in are planning next to keep customers engaged and satisfied in the future
When you attend the CX Forums Boston Executive Summit, you will be part of an exclusive community of CX/UX leaders focused on sharing, learning, and helping each other grow. You will meet other leaders in the CX profession from other industries and disciplines and be inspired with ideas and insights that will sharpen your customer experience skills and jumpstart your professional evolution and growth.
From Chief Experience Officer to Director of Customer Care to VP of Strategy and Design, CX Forums Executive Summits bring decision makers together to share knowledge, support each other in our practice.

City Winery Boston = Music, Wine, Food and Good Times
We are delighted to partner with City Winery Boston to provide a unique wine & music-centric experience which includes a beautiful stage and theater, with state-of-the-art audio/visual, multiple creative meeting spaces, a full service restaurant and bar.
This amazing venue is part of what sets CX Forums Executive Summits apart from traditional conferences, typically staged at hotels. Of course you'll want to stay for our Happy Hour Reception after the program to enjoy sampling City Winery's award winning wine.
We are excited to hear the City Winery story from CEO+Founder Michael Dorf, our featured Keynote Speaker. All in-person attendees will receive a copy of his book: Indulge Your Senses: Scaling Intimacy in a Digital World.
City Winery has been exceptionally mindful of COVID safety throughout the pandemic. Here are their most current safety guidelines, which will require proof of vaccination or recent negative COVID test to enter the venue.
City Winery Safety Guidelines as of 7/29/21
From Michael Dorf regarding Safety: " In these very challenging times of reopening, we are carefully balancing the safety of our customers, staff and performing artists with the issues of privacy and freedom which we in our democracy cherish. Our number one mission is to create a safe, comfortable, and ideal setting for our dining guests, our artists and those attending live performances of music, comedy, or any art on our stage. We care about the lighting, the air-conditioning, the sightlines, the exits for egress, the quality of the food, the service; everything that goes into making the customer experience as magical as possible. We want people to feel comfortable.
At this stage in the pandemic, with the Delta variant on the rise, the remarkable roll-out of vaccines, and the overwhelming numbers of our customers now fully inoculated against COVID-19, we can create an environment that is as safe as possible moving forward. Our recent July survey indicated that more than 75% of our patrons are already vaccinated. This is very good news.
Given this, our decision to move forward with creating an environment where we request that all patrons are vaccinated, and wear masks when moving indoors, will allow even more psychological comfort that our facility is as safe a place to be as possible. Of course, we respect that if a person does not want to get vaccinated for any reason, be it religious, health or other, they can get tested showing a negative result within 72 hours to gain admission. All guests are welcome on our outdoor patios, however masks will be required when entering the building."
Size Matters
Have you heard of Dunbar's number a.k.a. The Rule of 150? British anthropologist Robin Dunbar suggested 150 is the "magic number" of individuals for networking and maintaining relationships. For this reason, CX Forums Executive Summits are limited to 150 in-person delegates. With 50 passes reserved for speakers, sponsors, staff and advisory board members, only 100 in-person passes are available for purchase.
For those who prefer to attend virtually from home or office, 150 virtual passes are available. Whether online or in-person, with our interactive virtual platform you will be able to network on Zoom, participate in all of the live events, receive conference swag, and of course, be included in drawings and contests for prizes. Virtual delegates will also have their own emcee to guide them through the day's sessions and networking activities.
If you want to improve your customer experience skills and meet others in the CX profession from your area, do not wait. Get your In-Person or Online Delegate Pass today.
We look forward to meeting you live in-person and online in Boston!
Interested in participating as a speaker, sponsor or media partner with CX Forums Executive Summit? Visit CXForums.org or contact Mark Michelson mark@cxforums.net for more info.
Organizers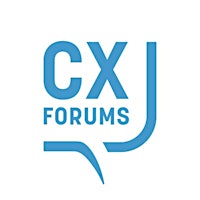 CX Forums: The Customer Experience Connection
About the Organizers
Connect, Learn, Get Inspired! CX Forums produces online and local executive summits to connect and inspire the customer experience (CX) community.Join our Linkedin Group
Visited 20 times, 1 Visit today